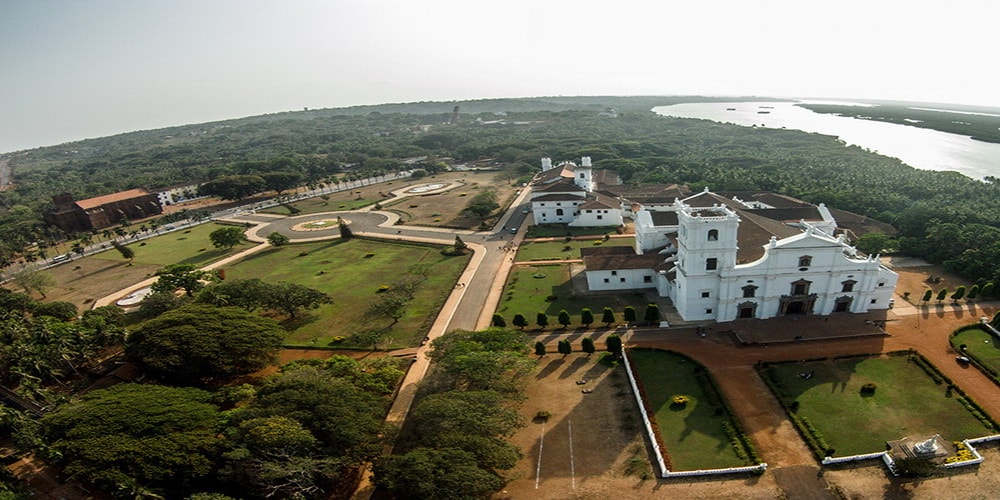 Best Places to Visit
Goa is a top holiday destination in India and one of the most popular beach resorts in Asia. Every year, thousands of tourists visit Goa from all over the world. Most of them come for the stunning beaches and Goa's sunny weather. But there is a lot more to see and do here.
You can see beautiful churches, visit UNESCO World Heritage sites, appreciate colonial Portuguese architecture and culture, enjoy a variety of water sports activities, go to a nightclub, see a fort, visit a wildlife sanctuary, or just relax by the sea or go for a swim.
Here are some of the best places to visit in Goa.
The Beaches
You will rarely find anyone who doesn't visit a beach. It's the top attraction of Goa. There are plenty of options to choose from as well. You can be at Arambol or Anjuna, both popular party destinations, at Mobor or Agonda, both serene beaches with swaying palm trees. Some places like the Butterfly beach can only be accessed with a boat or by trekking. On the other hand, there is the Candolim-Calangute-Baga stretch. This is always busy thanks to the many restaurants, beach shacks, shops, nightclubs, tattoo, and massage parlors.
There is a range of water sports activities. You will find speed boats, banana boats, water scooters, and Jet Skis at many places. There is also parasailing, paddleboarding, kayaking, windsurfing, and more.
Fort Aguada
An old Portuguese fort, which was erected in 1612. Located at the confluence of the Mandovi River and the Arabian Sea, the fort offers stunning views. You can look further up to Panaji, Goa's capital, on the other side of the river. It looks particularly beautiful when it rains. The fort has a 13-meter lighthouse, which came up later, a deep moat, military barracks, ammunition room, water storage chamber, and cannons. There are also three freshwater springs on the hill.
Fort Aguada is still in good condition. A jail was constructed within the premises later, which is still operational.
Dudhsagar Falls
The 1,020-feet Dudhsagar is India's 5th tallest waterfall. It is a beautiful sight on the Goa-Karnataka border, especially just after the monsoon, as the waterfall is at its fearsome best this time of the year.
You can see it from a train journey to and from Margao. You can also trek through the Bhagwan Mahaveer Sanctuary and Mollem National Park to reach its base to catch the best sight. There are many viewpoints along the way. Dudhsagar is a four-tiered waterfall. You can see them all from only the viewpoints. Only two of them will be visible otherwise.
Basilica of Bom Jesus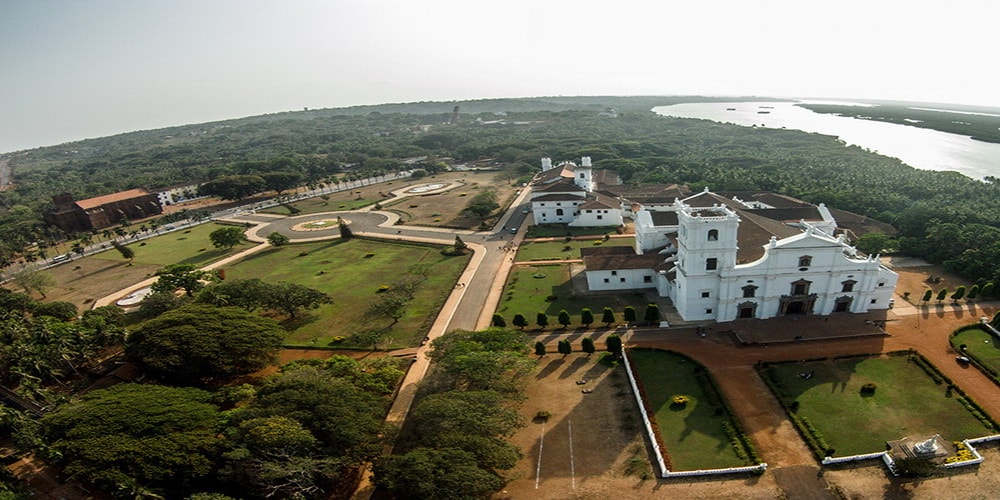 The Bom Jesus Basilica is located in Old Goa besides the Mandovi River. Visit the basilica for the preserved body of St. Francis Xavier, which makes it a very important place for Catholics from all over the world. The body is kept within a glass mausoleum. Viewing is allowed every 10 years.
This baroque-style church is a UNESCO World Heritage site. The church walls and pillars have Latin and Portuguese inscriptions. See the elaborate altars and the art gallery on the upper level. Old Goa also has the Se Cathedral, Church of St. Cajetan, Archaeological Museum, and the Viceroy Arch.
Church of Our Lady of Immaculate Conception
A beautiful 17th-century white church in Panaji. Sailors during the Portuguese days used to pray here before a voyage, coming back after the trip to pray once again, offering them Thank You for the safe travel.
The Immaculate Conception Church has Portuguese Baroque architecture. The interior has colorful and bright decorations. The main altar is dedicated to Mary. You will see elaborate carvings and gilded pillars. The Festival of Our Lady of the Immaculate Conception is held every year on December 8th.
Latin Quarter
Fontainhas or the Old Latin Quarter of Goa is also in Panaji, very close to the Immaculate Conception Church. It has narrow lanes with colorful Portuguese-era mansions, art galleries, boutique stores, bakeries, and restaurants. The houses that go back to the 18th and 19th centuries have projecting balconies and red-tiled roofs. Many cafes are 100 years old. You will get the Mediterranean feel in this neighborhood.
Grande Island
Visit the Grande Island near the city of Vasco da Gama to see dolphins, for fishing, snorkeling, reef diving, and swimming. There is also a variety of watersports activities on the island. The boat journey takes about an hour but this is a trip for the entire day. Lunch will be served on the island.
There are ferry and boat services from various places in Goa like Vasco, Calangute, Baga, Candolim, Sinquerim, and Dona Paula.
Arpora Saturday Night Market
In North Goa, at the base of a hill. You will find many shops selling handicrafts, funky jewelry, spices, bags, leather items, exotic lamps, shoes, and clothing. There is live music, many bars, and restaurants selling Italian, Turkish, Greek, Russian, and local seafood. The alcoholic drinks are cheap. The pubs and bars play rock, pop, trance music, and EDM. You will find many foreign bands playing here. There are flame dancers and jugglers.
Anjuna Flea Market
Extremely popular, the flea market just off Anjuna beach, was started by the backpackers and hippies. You will find junk jewelry, beachwear, bags, shoes, clothing, spices, and many souvenirs at affordable prices. There are some bars and restaurants too that play live music.
The market is open only on Wednesdays during the peak tourist season.