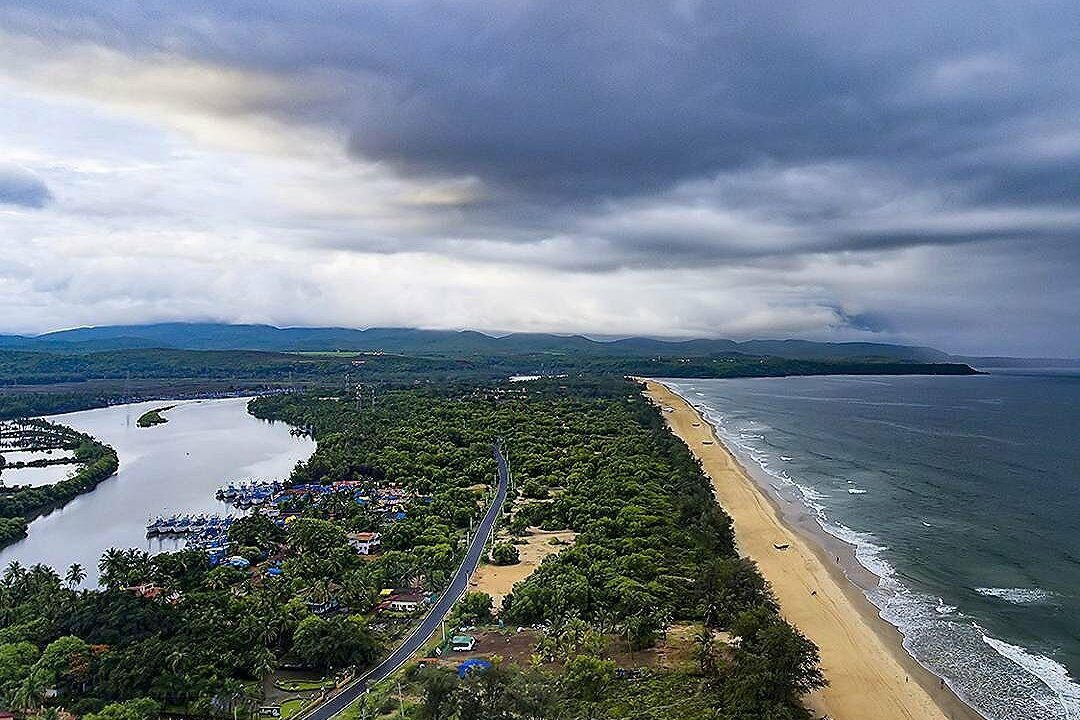 Goa Beach Guide
Goa is best known for its beaches, water, and beachside activities like the many types of water sports, swimming, diving, snorkeling, windsurfing, kayaking, undersea walking, and others. Goa's coastline stretches for 100 kilometers. There are 35 beaches of different sizes. Some of them are very small, while the others are big. Many beaches remain serene and quiet, even during the peak tourist season. There are also beaches that are a party and nightlife hub. Some beaches in Goa are sandy, while the others are rocky with a palm-fringed shoreline. You will get them all in Goa.
Goa Beach Guide – The Best Beaches
The state can be broadly divided into two parts – North Goa and South Goa. Most of the South Goa beaches are quieter. In the North, the beaches are usually busier. You will find more tourists, more hotels, resorts, and beach villas. Many North Goa beaches like Anjuna and Arambol are party destinations. They are popular with both foreign and Indian tourists.
Best North Goa Beaches
Arambol – One of the northernmost and cleanest beaches. It is both sandy and rocky, with red hills running along the coast. Lined with many palm trees. Very laid-back vibe. Few tourists. The Arambol beach was once very popular with the hippies. The Arambol Festival is held on the beach in February. It is popular for yoga, meditation, tantra, and music events.
Ashwem – 1.5-kilometer-long sandy beach. Great for swimming as the waves are gentle. There is a small hill with some trees. There are only a few beach shacks at the northern end of the beach, which keeps Ashwem clean and serene. There are only a few resorts, hotels, and villas here.
Mandrem – Located between Arambol and Ashwem. This is a small beach but what makes it unique is the small creek that runs along the coast. There are a few bridges to cross the creek. Plenty of casurina and palm trees everywhere. There is a botanical garden and a dog rescue center very close to the beach.
Morjim – Serene and quiet beach next to the confluence of the Chapora River and the Arabian Sea. It is popular for kite surfing and swimming. The Southern end of the beach is almost completely empty. Most of the beach shacks, villas, and resorts are in the southern end. Part of the beach is protected as it is a nesting site of the endangered Olive Ridley Turtle.
Vagator – This is on the other side of the Chapora River. It is partly rocky, with dramatic cliffs along the beach. The 17th century Portuguese Chapora Fort is on top. Many restaurants and bars in the central part of the beach. The southern end is almost completely empty, good for privacy.
Anjuna – Anjuna is one of the most popular Goa beaches. Sandy beach with some red laterite rocks. Anjuna hosts many trance, rave, and full-moon parties during the peak tourist season. There are many nightclubs. Parties are also held on the beach. Visit the Anjuna flea market, which was started by the hippies.
Baga-Calangute-Candolim – The three most popular beaches, both with Indian and foreign tourists. This is also one of the longest stretches of coastline in Goa. You will find many hotels and resorts, both premium and affordable properties. There are many villas for rent as well. This stretch has some of the best beach shacks, restaurants, cafes, and bars in Goa. There are plenty of shops, supermarkets, and massage centers too. Club Tito's and Café Mambos, famous nightclubs are both in Baga. The Aguada Fort is just above Candolim.
Best South Goa Beaches
Betalbatim – A wide and sandy beach with a few shacks. Most tourists head to the neighboring Colva, so it remains serene and peaceful. Martin's Corner is a popular restaurant close to Betalbatim. You can see dolphins close to the beach. On some nights, you may even see bioluminescent planktons lighting up the seawater.
Colva – Close to Margao. Colva beach is especially popular with Indian tourists. Many people around Colva Circle. Hotels, restaurants. Price is average. There are water sports. But head to the northern or southern end of the beach and you will hardly see anyone.
Benaulim – Close to a fishing village, so there are many fishing boats and trawlers along this tree-lined coast. There are also many water sports. There are a few upscale properties like the Taj Exotica and Club Mahindra Palms hotel. Many villas and hotels are in the average price range as well.
Cavelossim-Mobor – Serene and quiet beaches, popular with foreign tourists. Great for a relaxing Goa holiday. There are good hotels here as well like the Novotel Goa, Radisson Resort, Holiday Inn, and The Leela. The Sal River flows on the other side. Go on a river cruise to see many birds and bats. There are several riverside eateries and cafes. Hungry Shark and The Fishermans Wharf are both very good.
Agonda – A 2.6-kilometer beach between two rocky headlands. There is a small river at its northern end. You can go on a backwater cruise. There are many hotels, villas, and beach shacks. But it still remains serene as there are never too many tourists here. Agonda was ranked as Asia's #1 beach for 2018 by TripAdvisor Travelers' Choice® awards.
Butterfly – A small and secluded beach that can only be reached by boat or trekking through a forest. Many palm trees. The beach has many butterflies, which gives it the name. Chance to see dolphins. It is one of the most photogenic Goa beaches.
Palolem – The most popular South Goa beach. It has palm trees bending over the sand. There are several guesthouses and small resorts. Silent discos are held here. Palolem too has a backwater at its northern end with a wildlife park where you can see many birds.